Experts' Rating
8.7/10

Pros
Impeccable reputation, Large limits, Early lines and overnight odds.

Cons
Modest bonuses, Payment processing woes.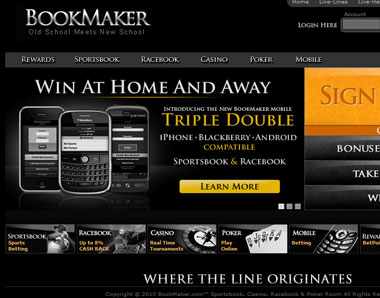 When you are known as the book that produces the definitive sports line that everyone else in the market follows, you can surmise a few things about that sportsbook.
They have been around for many years (as in, since 1985, a decade before the first real online sportsbooks started taking root)
They are well-respected and trusted by everyone as the market setter and market leader
They are solid and deep-pocketed
When your name is BookMaker.com, it should be a given that you are one of the definitive shops in the world for bookmaking. And in this case, that assumption is correct.
One of the largest and one of the best online sportsbooks, Bookmaker.com continues to improve its product and continues to polish its industry-leading reputation as a must-have 'out' for your sports wagers. It continues to be the producer of the earliest lines on the sporting event you want to bet on, as is evidenced by its slogan: Where the Line Originates.
Are you a high roller who's been kicked out of your book for winning too much? It won't happen here.
Are you someone who struggles to get money to and from your account? It won't happen here.
Bookmaker.com meshes top-notch, veteran management with sharp oddsmakers with a sterling reputation for fairness and fast payouts. Add it all up and you have an operation nearly without flaw, a lynchpin of the entire industry which has actually bailed out rival struggling sportsbooks in the past.
While some may complain that the bonus structure is not as generous as it could be, that is a small price to pay for all the other reliability, perks and peace of mind that comes with playing at BookMaker.com.
You can usually search the web and find an online forum spouting something negative about every online sportsbook.
The fact you have google for an hour to find something (and it probably was quickly resolved to everyone's satisfaction) is a testament to the fact BookMaker.com plays fair and values customer satisfaction above all else.
Deposit Options
Accepts: Most types of credit cards including Visa, Mastercard, American Express and Diners Club. Below we have listed the main deposit options offered at Bookmaker.com
American Express – min $25, max $500
Bank draft via regular mail- min $500
Bank Wire- min $2500
Click 2 Pay- min $25, max $1000
Click and Buy – min $25, max $1000
Diners Club – min $25, max $500
ECO – min $25, max $1000
eWallet Xpress – min $25, max $1000
iPoint- min $25, max $500
JCB- min $25, max $500
MasterCard – min $25, max $500
Moneybookers- min $25, max $100000
Neteller – min $25, max $50000
PaySafe Card – min $25, max $1000
PIC-Club – min $25, max $1000
Speedcard Platinum Account – min $25, max $1000
VISA – min $25, max $500
Bonus Offers
New Client Initial Deposit Bonus: 20% Free-play
$500 maximum bonus
$300 minimum deposit
5x rollover
Reload Bonus: 10% Free-play
$300 minimum deposit
$300 maximum bonus
Client's balance must be $100 or lower and must not have withdrawn funds in last 30 days
3x rollover
Company Info
Location: San Jose, Costa Rica
Online Since: 1985
Online Address: Bookmaker.com
Wagering Hotline:1-866-924-3712
Customer Service Hotline: 1-800-290-7951