Experts' Rating
8.8/10

Pros
Longevity (started 1998), Stellar credit card acceptance rates, Excellent odds variety and display, Long positive history.

Cons
Mediocre bonus offering increasing, Website improved in summer 2009.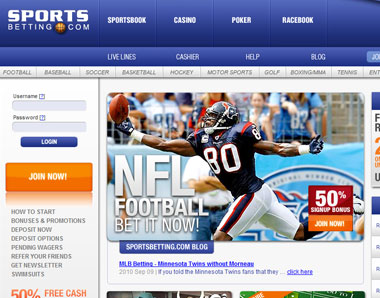 When you think sports betting, it makes sense that you would think SportsBetting.com.
That has been the thought process behind thousands of new fans looking for a top sportsbook and many have found what they are looking for at SportsBetting.com.
The Antigua-based company was once part of the Sportsbook.com family of sites but later spun off as its own entity. Since then, it has quietly cemented its place among the upper echelons of stable and successful operations, presenting their own unique contests and promotions.
Running on the WorldGaming platform, the site consistently offers the same excellent array of sporting events and prop wagers as run across other books running that software. It has proven is reliability and longevity.
The site has enjoyed some recent upgrades in terms of content and visual appeal, however it remains a site that could use a significant design and flow overhaul. It would be a shame for new visitors to dismiss this quality site on first glance because of its somewhat dated appearance.
Payment processing has remained solid and relatively seamless here, with customers able to fund and withdraw with relative ease. Clients also have the benefit of poker and casino options and the racebook back end run by sister site Racebook.com (which covers most North American tracks).
A key differentiator here is a contest regime that can produce huge payouts for small-stakes (or free) buy-in. Whether it's an NFL game or a $100,000 Triple Crown game, Sportsbetting.com usually has an interesting contest to capture customer interest and loyalty.
While not distinguishing themselves specifically in any one aspect of their operation, they similarly do not fall down in one area. It makes SportsBetting.com one of those safe and steady 'outs' for your action.
The situation is similar regarding TopSportsbooks.com members in their dealings with this company. There is not a huge volume of work or business nor exciting, cutting-edge work, but what is done gets done well and efficiently. And payments flow on schedule and as per contract.